Special Activities :: KACP Telemarketing Programs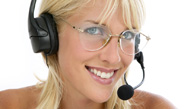 The Kansas Association of Chiefs of
Police is currently under contract with Xentel, Inc. who is conducting a professional statewide residential and business telemarketing campaign on the Association's behalf. The programs are designed to inform the public of the existence of our association and the many programs in which we are involved. They are also a fundraising revenue source that support the KACP's many worthy programs and its general operation.

Funds raised through telephone solicitation efforts help support such programs as the Law Enforcement Torch Run for Special Olympics, the Amber Alert Program training, the KACP annual Awards for Valor Program, the Wall of Honor, the Kansas Law Enforcement Memorial, the Kurt Ford Memorial Survivor Benefit Program, the John Foster Memorial Scholarship, the Kansas Police Administrators Training Seminar, conference-based training workshops, law enforcement legislative efforts and various community education programs such as "We Card" and "Project ChildSafe".

Through the telemarketing programs, Kansas residents and businesses are contacted by telephone and asked if they are interested in making a pledge to support the Association and these programs. If they make such a verbal pledge, they are then sent a letter thanking them for their pledge and asking them to send their donation to the KACP in an enclosed, pre-addressed envelope. Also enclosed in the pledge letter is a pamphlet explaining some of KACP's programs plus a KACP bumper sticker or window decal.

Contributions made to the KACP are tax deductible.

The Association's Solicitation License (copy available upon request) is current and on file in the Office of Secretary of State as is our Articles of Incorporation establishing the KACP as a not-for-profit, 501(c) 3, charitable organization. The Association's federal tax identification number is 48-08617-46.

The Kansas Association of Chiefs of Police appreciates the contributions of the thousands of Kansas citizens and businesses who support our organization, its efforts and its programs. Thank you.

If you wish to make a contribution directly to the Kansas Association of Chiefs of Police, it will certainly be appreciated. Please send your check to: KACP at P.O. Box 780603, Wichita, KS 67278-0603. Thank you for your thoughtful and generous support.