Products :: Law Enforcement Tests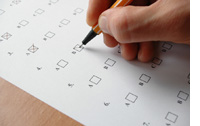 Since April of 2001, the Kansas
The association of Chiefs of police distributes tests to law enforcement agencies. Created as a service for law enforcement in Kansas and as a source of revenue for the association, the initial officer, dispatcher, correction officer and promotional tests created and provided by Stanard & associates help police and sheriff departments throughout the state recruit and promote the best officers and dispatchers. maybe. This program allows law enforcement agencies of any size to vet both their candidates and employees to make sure they have the basic skills for successful training as well as the workplace.

TThe entrance exam is a skill-based test that tests students in arithmetic, reading, grammar, and simple report writing. This exam is a correct, accurate, fair and proven method of evaluating a candidate's ability to perform basic functions at work. The test is currently used by more than 2,000 agencies nationwide, including numerous city, county, and state agencies in Kansas. View a list of current S&A test users in Kansas.

Kacp and Stanard & associates offer promotional exams for first-and second-line managers, as well as entry-level tests. These ready-made exams have been developed with the help of hundreds of overseers and supervisors from all over the country. These tests focus on areas such as policing, police patrolling, jurisprudence, criminal investigation, case management and supervision. They have proven their honesty and accuracy and highlight the main functions of the work.

The National Dispatcher Selection Test (NDST) measures reading comprehension, listening comprehension, problem solving/prioritizing, and multi-tasking. The NDST is based on extensive research and development. It is a reasonably priced exam, which can be used to identify those candidates who possess the basic skills necessary to be quality dispatchers.

This testing system is designed and intended to help ensure that law enforcement agencies identify individuals with the greatest potential to become successful officers, dispatchers and supervisors.

Available Tests: Open, complete and email to kacp@ksacp.net. The completed forms will then be forwarded to S&A.